Nine years ago, Groot Drakenstein Games Club lost their captain, Alfie Cupido, on the field during a fixture against Western Province Cricket Club. Since that day, our annual home fixture against WPCC has been dubbed the Alfie Cupido Memorial Game. This year, the fixture was held on Sunday the 8th of December.
This game is always highly-anticipated, with both teams being very well acquainted with each other. WPCC were asked to bat first on a beautiful day with a pitch that looked like it would do a bit for the bowlers on the right length… and do a bit it did. Corrie Brand, who is typically Groot Drak's unluckiest bowler, found the edge of Nick Zaiman's bat with the first ball of the game – starting with a wicket maiden. A similar story from the other end, with Joubert Kotze picking up a wicket with the batsman chasing a wide one outside off. Corrie's next over produced an unplayable delivery, which uprooted the stumps and WPCC found themselves three wickets down without a run on the board. Corrie Brand finished up 8 for 3 from his 5 over spell and Joubert Kotze; 15 for 2 from his 5. Both openers did more than what was required at the top before being replaced by Andri le Roux and Kudu Kotze.
The first-change bowlers did well, with Kudu (0/22 from 4) bowling up the hill & into the breeze, while Andri (1/9 from 4) picked up the WPCC skipper, Shane Eglinton cheaply.
Morne Maritz and Bruce Taylor were the only Groot Drak bowlers to get through their full quota of overs, with Bruce picking up a wicket for 46. Morne Maritz nabbed the two vital wickets of Derek Mitchell (22 from 35) and Shawn Dyson (55 from 58).
Adrian Raisbeck only had to bowl 4 deliveries before claiming Damian de Vos' wicket to see the visitors bowled out for 145.
Not the biggest total, but the old adage of 'runs on the board' was in the back of everyone's mind as Groot Drak started the run chase.
MC Uys did a sterling job at 1, scoring 34 from 33 deliveries. James Basson in his first match for the club looked good, but could only manage 4 from 3 before nicking one to slip from the bowling of Shane Eglinton.
Angus Simmers (7 from 10) and Adrian Raisbeck (9 from 12) fell quickly, bringing Craig McNaught (20 from 30) and Andri le Roux to the crease to attempt to steady the ship. It was looking like a formality until Andri (32 from 34), Corrie Brand (9 from 17), Kudu Kotze (9 from 7) and Morne Maritz (2 from 3) all threw their wickets away, while Matt Hart-Davis did the bulk of the damage to the Groot Drak middle order, ending with 3 from 16 from his 3 overs.
Requiring 8 to win with Joubert Kotze and Bruce Taylor at the crease, 9 wickets down, it was looking all over for the home side. Bruce Taylor got off the mark with a lofted straight drive over the bowler's head to bring Groot Drak within 4.
WPCC captain, Shane Eglinton brought himself on to bowl in an attempt to wrap up what was turning out to be a nail-biting game.
Alfie was clearly looking down on the home side favourably as a straight delivery to Bruce Taylor found the inside edge of the bat and miraculously just missed leg stump as the ball limped to the fine leg boundary to seal the win for Groot Drak.
A wonderful day spent with a bunch of great cricketers who are quickly becoming good mates, was closed out with a swift fines meeting and a casual beer afterwards.
Here's looking forward to the away leg in February next year!
Man of the Match: Corrie Brand (honourable mention: MC Uys and Andri le Roux)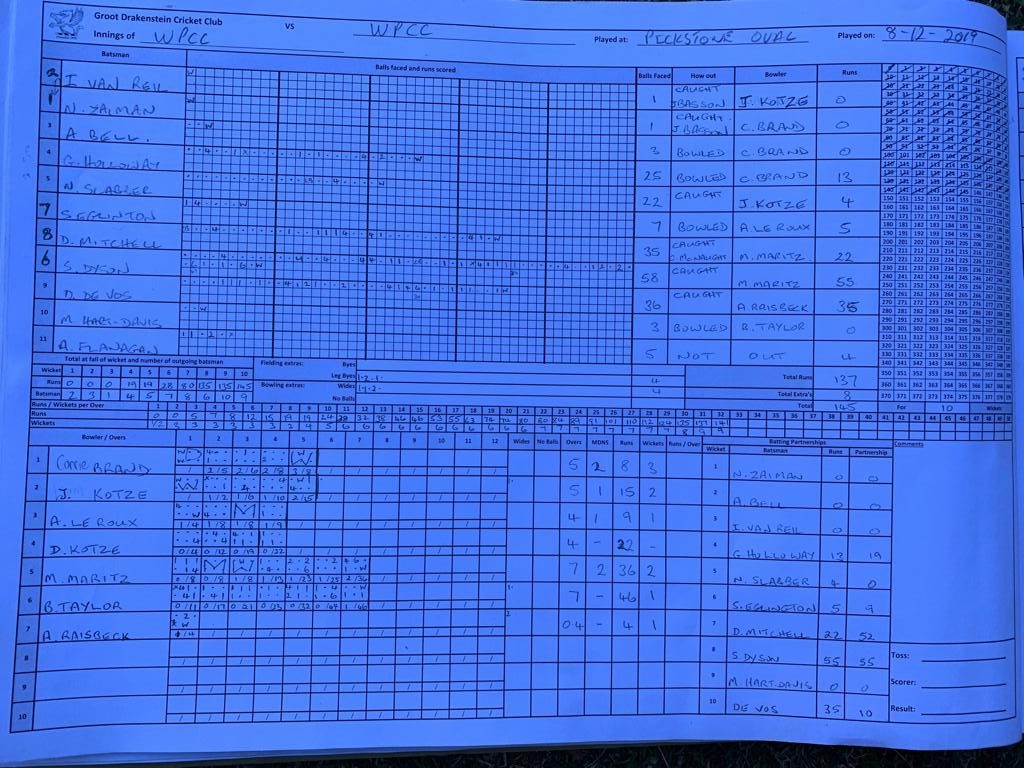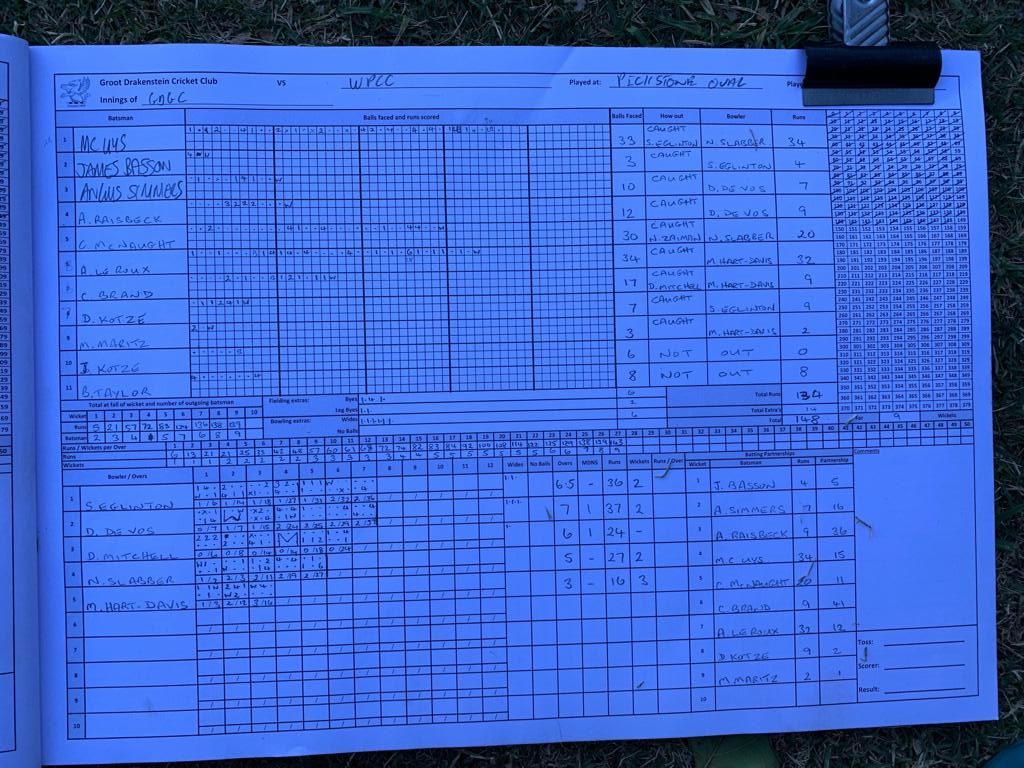 Match report by Craig McNaught