Groot Drak's final game of the season was against an opposition that has not visited Pickstone Oval in many years – Kelvin Grove. Groot Drak were lucky to win the toss, as both captains had decided that it was a 'bat first' kind of day.
Quintin van der Westhuizen and Tim Whitfield opened the batting and put on a solid opening stand, before Quintin was adjudged LBW on 40.
Rikus Walters joined Tim at the crease as both batters notched up yet another 50 each for the season – Tim departing on 56 from 49 and Rikus contributing 58 from 54 as a very solid platform had been set for the middle order.
In at number 4, Joubert van Zyl smashed 31 from 20, while Claude Chantler and Bruce Taylor both ended their batting efforts for the season on ducks.
With a few overs to spare, Craig McNaught contributed 41 not out from 28, ably supported by Hugo Brink, who scored a run-a-ball 8 not out before the 35 overs were up.
With 257 on the board, it felt like a par total, as the wicket had offered a bit for both batters and bowlers.
At the innings break, with the flag at half-mast, Groot Drak paid tribute to ex-club-captain-and-chairman, Ian Laurenson, who sadly passed away just a few days prior. Thanks especially to Ken Lumb for sharing his heartfelt words and memories of one of the club's great characters.
Opening the bowling, Joubert Kotze bowled a mixed bag of unplayable deliveries and buffet balls, as his seven overs cost 53 runs without a wicket. From the other end, Claude Chantler redeemed himself and only conceded 19 runs in his quota, but also without any success.
While Kelvin Grove started thing slowly, they kept all their wickets in hand until Sean Petzer (2/46 from 6) managed the breakthrough with his lucky-packet-array of right arm over. Michael Devine's (0/34 from 6) off-spin created a few opportunities but couldn't convert them into wickets.
In the latter overs, the bowlers started to take some pretty serious stick, while the visitors edged closer and closer to the total, with plenty of batters still to come. Taking the brunt of the punishment were Hugo Brink (1/38 from 5) and Bruce Taylor (1/29 from 3), who bowled better than their figures might suggest – taking a hiding from some clean hitting towards the close of play.
With just one over remaining, Tim Whitfield was asked to defend 21 runs in his six balls. It was a thrilling finish to a wonderful game of cricket, as Kelvin Grove fell just 5 runs short of the total.
After a civilized fines meeting and with the game constantly in the balance, it was a fitting end to another hugely enjoyable season as we look forward to seeing Tal and the Kelvin Grove lads again after the winter break.
View photos and videos of the day here: https://www.instagram.com/p/Cb4c1PzqHEA/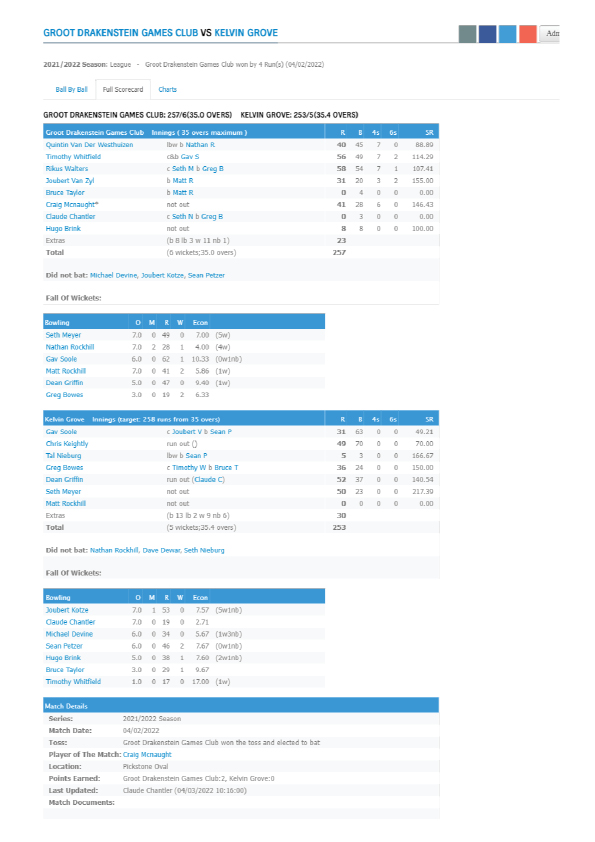 Match Report by Craig McNaught