Twenty two very happy cricketers arrived at Pickstone Oval on Sunday. The reason? Both Western Province Cricket Club and Groot Drak had been let down at short notice and were practically resigned to having a bye this weekend. Luckily we were able to get in touch at the last minute to scramble a fixture.
After both captains had assessed the situation out in the middle, Groot Drak was very kindly offered the opportunity to bat first on what everyone agreed was a pitch built for runs. Big runs.
Making his debut for Groot Drak, YouTube star, Gareth Grant of Can You Cricket, along with Quintin van der Westhuizen, opened the batting. The pair got off to an absolute flier, dealing almost exclusively in boundaries. Quinny notched up his umpteenth half century for the club, scoring 56 from only 34 balls. Gareth continued with his classy knock as Rikus Walters entered the fray.
In typical Ricky fashion, his innings started slowly, with only 2 runs to his name after 14 balls. From there he opened up and freed his arms to avoid any unnecessary running between the wickets. Gareth showed off all his experience by dispatching the loose deliveries and opting to leave anything that might threaten his outside edge. At drinks, the batters looked set and had the home side well poised at 127/1 after 17 overs.
Rikus went to his fifty shortly after the break and, even though he just about depleted the bar's Powerade stocks, he showed no signs that he was done scoring runs on one of the flattest tracks ever seen at Groot Drak.
Picking up his scoring rate, Gareth too went to a well-deserved half century in good time. A sharp stumping saw Gareth depart for 74 from 64 balls.
In at number 4, Tim Whitfield pitched in with a handy 20 from 14 before being clean bowled by young speedster, Haydn.
Rikus converted his 50 to 100 rather smartly as any balls near the slot took some finding in the long grass on the other side of the boundary rope.
With only a few overs left, Claude Chantler (6 from 8) and Craig McNaught (2 not out from 4) tried to give Rikus the strike. Ending proceedings with a superbly played 122 not out from 99 balls, Rikus had spearheaded a batting display that saw Groot Drak post 308 for 4 from their 35 overs. Even though the required run rate was sitting at 8.8 an over, it was very clear that the pitch still had plenty of runs to give on the day.
After the lunch break, opening bowlers Craig McNaught (1/44 from 5) and Tim Whitfield (1/32 from 5) took a bit of tap early on. Nick Slabber was the main aggressor, being dismissed just 6 short of a half century.
Being introduced earlier than anticipated, Bruce Taylor (2/53 from 7) needed only 2 deliveries to claim his first victim. Deciding that taking the pace off the ball was the best strategy, Quintin van der Westhuizen joined the attack alongside The Bruce. Perhaps a lapse in judgement from the skipper or maybe a ploy to produce a tight game, Quintin (0/72 from 6) received the sunburnt palate award, being manhandled at 12 runs per over during his spell.
After drinks, Hugo Brink (0/40 from 5) and Zak Barnard (0/23 from 3) also took some punishment as WPCC found themselves 122 for 3 after 17 – just 5 runs off the pace.
The boundaries started to rain down as Louis Koen and Haydn capitalized on the gorgeous batting conditions and the fairly average bowling. With 7 overs left in the game, WPCC needed 70 runs to win, with 6 wickets in hand.
Having to just about be dragged on to bowl, Claude Chantler removed Louis with his first ball and picked up Trevor Pape a few balls later. Hayden was still going strong as he smashed a blistering century from 40 odd balls.
Craig reluctantly rejoined the attack, having to push up the hill with just two overs remaining in the game. Playing one big shot too many, Hayden was finally dismissed thanks to a solid catch in the outfield from Gareth Grant at cow corner.
With things finally looking comfortable, Wessel van Deventer (0/5 from 1) was asked to bowl the final over and managed to end up as the most economical bowler for Groot Drak, securing a 22 run victory for the home side.
A mammoth 594 runs had been scored in 70 overs. Bodies were sore, but spirits were high, as all the players took a moment to soak up the incredible atmosphere after another thrilling run chase.
A few frosty beverages were enjoyed on the pitch, before well-deserved fines were dished out in the shade of the clubhouse.
Thanks to our friends at Western Province Cricket Club for making the journey and for delivering an epic day of cricket and laughs. We look forward to round two in a few days!
Man of the Match: Rikus Walters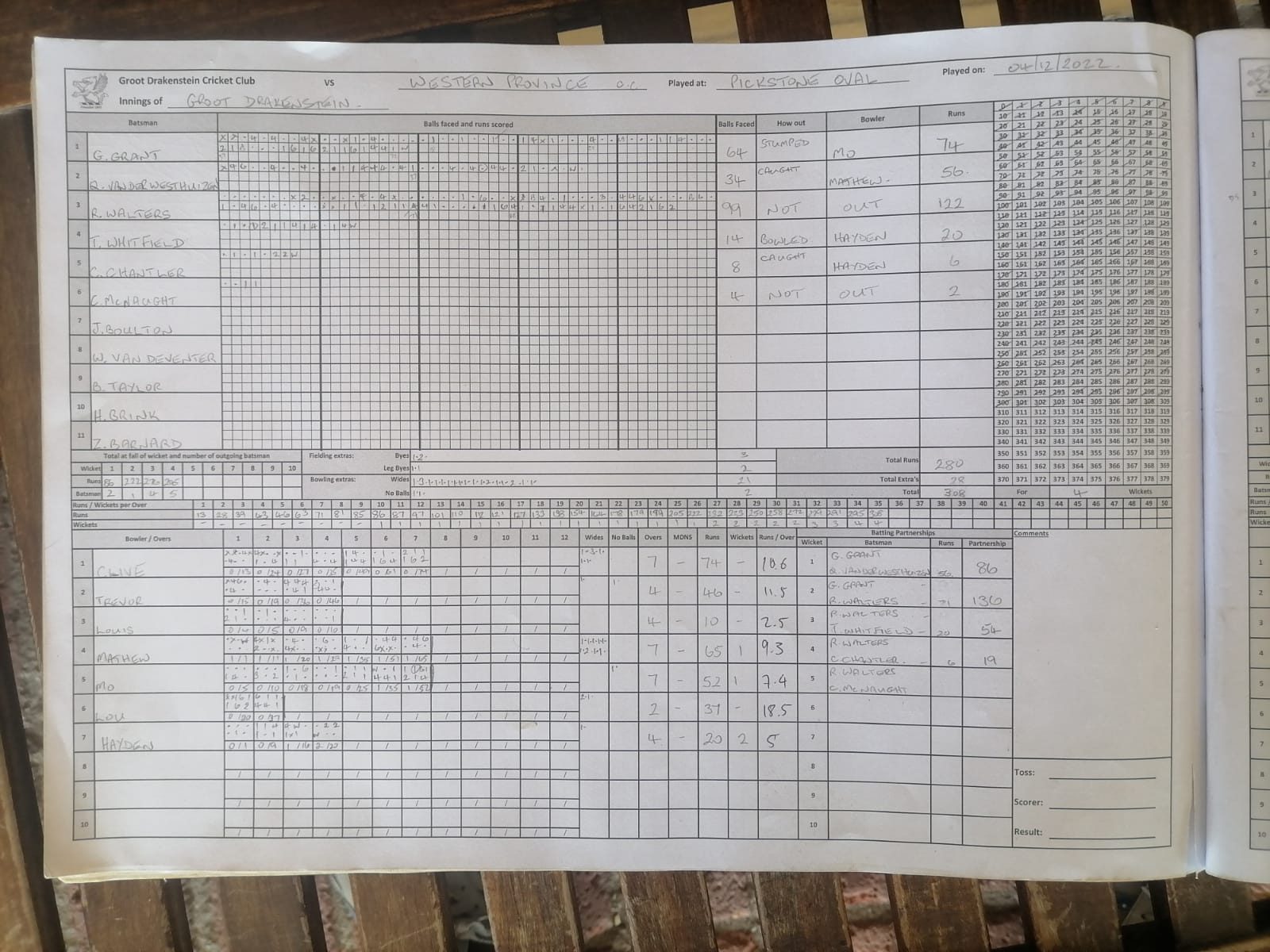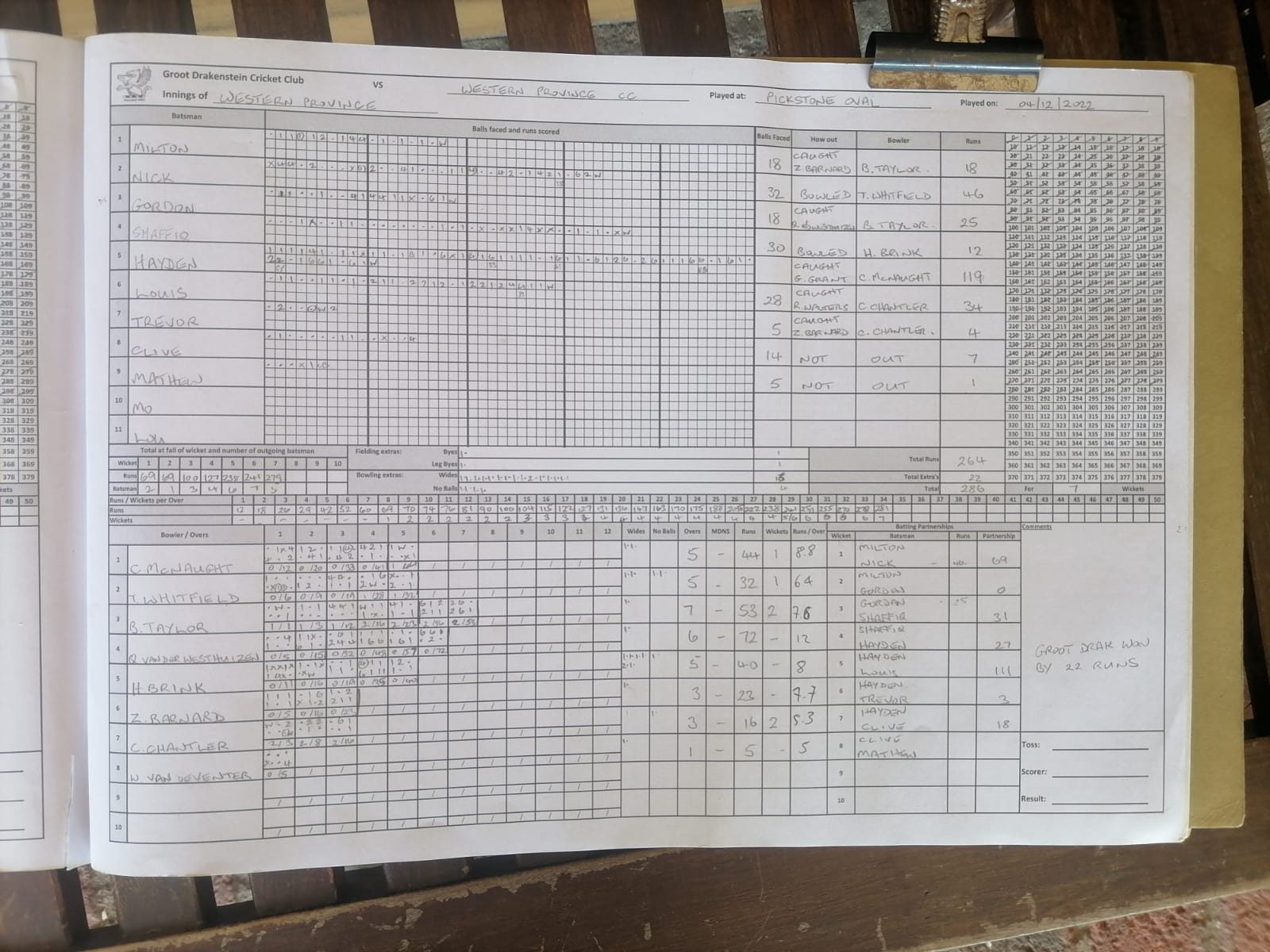 Match report by Craig McNaught