Groot Drak and the lads from Melkbos Fellows have been struggling to get a game against each other for three years. Sunday the 3rd of October was almost a repeat incident, with rain predicted for the entire weekend, threatening to push the fixture out yet another season. Luckily, the cricketing gods were in a good mood as Sunday's weather was nothing short of glorious.
The day also witnessed a very rare event at Groot Drak – a coin toss, which the home side won and, for only the second time in many years, were able to set a total on home soil.
MC Uys (15 from 10) and Quintin van der Westhuizen (17 from 16) started well, but both fell just as they looked settled. The early breakthrough precipitated a top order collapse of epic proportions as Sean Petzer (5 from 9), Chad Ayford (9 from 14) and Wade Robyn (2 from 3) couldn't wait to get back to the clubhouse to re-watch Saturday's rugby highlights.
Claude Chantler (12 from 11), surprisingly still conscious after his bachelor party just a few hours prior, managed to get going but couldn't follow through on a promising start.
At 69/6, the decision to bat first was starting to look about as smart as taking a surfboard to the Kalahari. In full consolidation mode, Craig McNaught and Tim Whitfield sought to salvage what they could from a hopeless position.
With both hands firmly on the Pacman prize for eating all the dots, Craig could only manage 18 from 38 before making way for Morne Maritz at number 9. At the other end, Tim was all over the bowlers like a rash, surpassing 50 runs without taking any risks. Morne smashed two massive sixes on his way to 29 from 19, adding some seriously valuable runs in the last few overs.
Michael Langenhoven (2 from 4) had a brief stint at the crease before Danie van der Nest (5 not out from 7) did his best to keep Tim on strike. Tim, in the meantime, was batting like a man possessed and had muscled his way to 99* with one ball left in the innings. Tensions were high as his teammates willed him towards the magical three-figure mark from the pavilion. A yorker-length delivery outside off saw Tim shoulder arms and let the ball through to the keeper. Fortunately, eagle-eyed umpire, MC Uys signaled a wide and asked the bowler to try again. This time, Tim threw his hands at the ball and got a healthy edge that ran down to third man for his two most significant runs for Groot Drak thus far. There was a huge celebration from the clubhouse as everyone congratulated Tim on his unforgettable 101* from 78 balls.
Somehow, Groot Drak had recovered to a monstrous total of 237 for 9 after 35 overs.
Returning from a long absence, Danie van der Nest opened the bowling and picked up both openers after they had set a sturdy foundation for the rest of the Melkbos Fellows. Michael Langenhoven (0/25 from 5), who last played for Groot Drak several years ago, also made a welcome return and backed up Danie, pushing up the slope.
Some great middle-order batting meant that Tim Whitfield was constantly under pressure bowling first change, receiving similar punishment to that which he had dished out in the first innings. Morne Maritz (1/18 from 4) was superbly economical down the hill and showed his true colours as an all-rounder.
Resorting to removing pace from the ball, Claude Chantler (0/36 from 7) and MC Uys were asked to turn their arms over with the batters squarely on top at 150/4 with plenty of overs remaining in the day.
We're not exactly sure who cursed MC before the game, but there were definitely some dark forces at play, as no fewer than 5 chances were spilled from his bowling. Not what was needed in a game destined to go to the final over.
Tim (2/41 from 7) rejoined the attack, this time with some off-spin. This was clearly a good move as his first ball uprooted the stumps and put Groot Drak back within shouting distance.
MC soldiered on and managed to break the hoodoo – first with a sensational, full-length diving catch in the deep and then by picking up three quick wickets to strangle the run-fest.
Danie returned for his second spell and ended up with figures of 2/34 from his 7 overs – putting the game out of contention and securing a 41 run victory for the Drakies in a game that seemed to ping pong between likely winners every few overs.
It was great to finally play against the Fellows from Melkbos and we wish them all the best for the season ahead.
Congrats to Tim on his maiden century for Groot Drak and for scooping a well-deserved 'man-of-the-match' accolade in the process.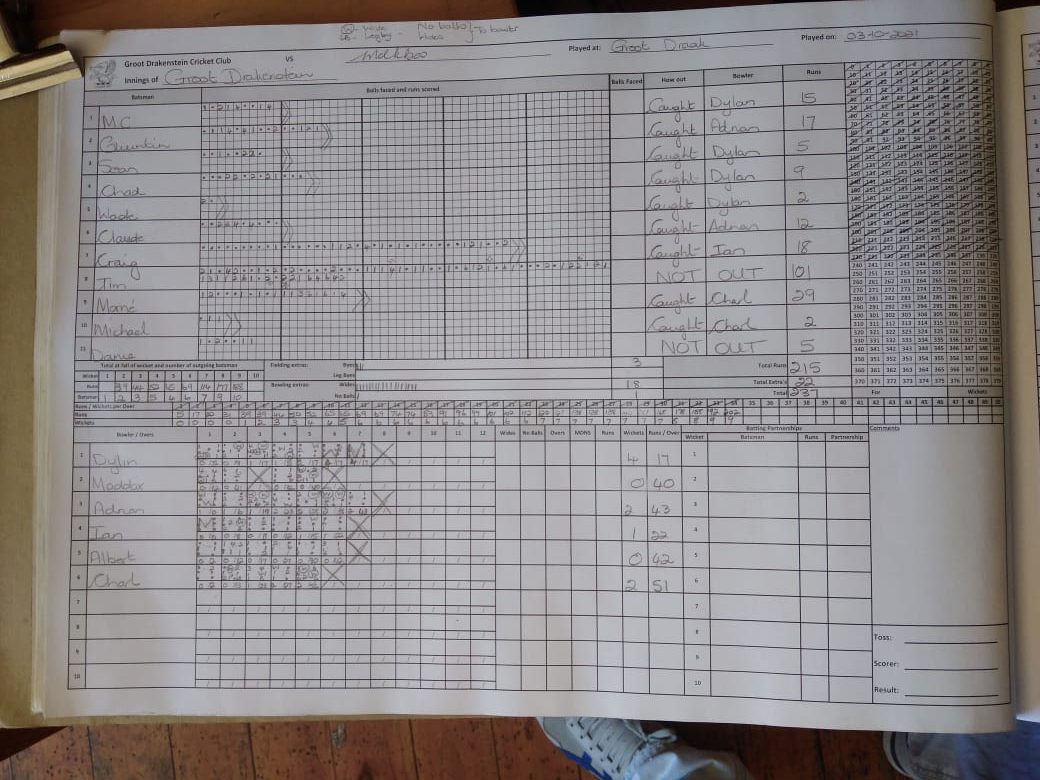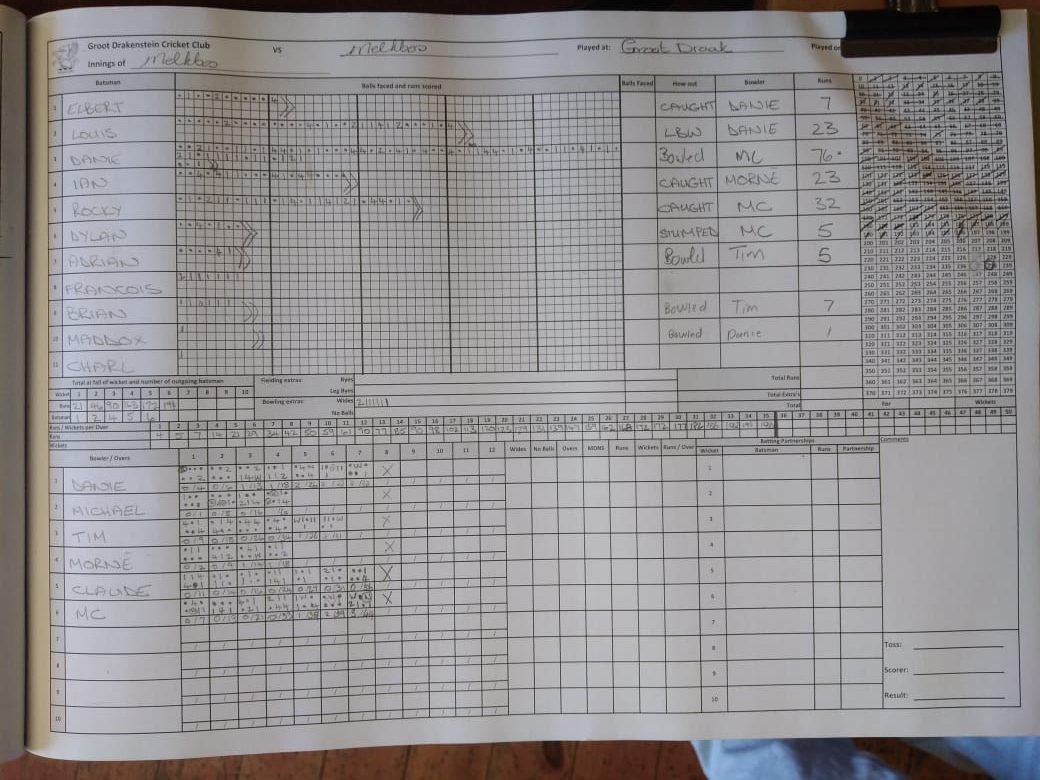 Match report by Craig McNaught