Having the opportunity to bat first twice in successive games was one that Groot Drak cherished on Sunday, when they took on their good mates, Spin Doctors. With Vitalis having prepared a belter of a wicket, combined with one of the strongest batting lineups in a while, there were bound to be a few runs scored.
Settling in nicely to his role as an opening bat, Quintin van der Westhuizen got off to a flying start. Unfortunately, the same cannot be said for his partner at the other end, Jaco Swarts, who lobbed a long hop to point without troubling Ken Lumb behind the scorebook.
Bruce Taylor was catapulted up the batting order to number 3, where he looked to "stabilize" the innings and enjoy some rare middle time. He managed to nudge 21 useful runs before lofting a leg glance to fine leg.
Rikus Walters joined Quintin at the crease and struggled to find the middle early on, but importantly, didn't get himself out. Fortunately, Quintin was seeing it big and as his innings went on, he heavily favoured the boundaries over quick ones and twos. This stood him in good stead as he passed 50 with relative ease and went on to smash 76 from 57 balls.
Making his home debut for the club, Francois 'Frenchy' Vermaak came in at 5 and wasted no time, dealing in fours and sixes from the get-go. Rikus started to find some rhythm and became the second batter to pass 50. From there he decided to really kick on.
These two great friends were clearly feeding off of each other's positivity, while simultaneously draining that of the bowlers. Some massive sixes were dispatched in to parts of the ground that haven't been explored since the moon landing. Rikus was eyeing three figures and Frenchy was looking to cement his middle-order spot with his new team. Not to be left out, Francois also joined the half-century club as the run-fest continued and Groot Drak breezed past 250 with 3 overs to go.
An almighty pull shot into the car park for six had Rikus celebrating an incredible hundred, rubbing further salt in to the wounds of the Doctors, who had nowhere to hide on a flat track.
The last 18 balls of the innings went for 46 runs as Drak recorded a monster total of 297/3, with Francois not out on an exceptional 68 from 44 and Rikus not out on 114 from 77 deliveries. Sean Petzer, all dressed up with nowhere to go, had spent around 25 overs with the pads on and unfortunately didn't get to face a delivery.
Both teams enjoyed a very welcome half-time break and some time in the shade before heading back out for the run chase.
Having done nothing other than cheer from the clubhouse, Craig McNaught and Tim Whitfield were the only non-spinning Drakies and were tasked with opening the bowling.
Craig (1/12 from 5) found some swing early on and managed to keep the runs down by bowling full, outside off. Reluctantly pushing up the hill, Tim took some punishment early on in his spell, but gathered momentum and earned a wicket for his troubles, finishing off with 1/27 from his 6 overs.
Bowling first change, young Ethan Williams (0/26 from 3) struggled for rhythm against the Spin Doctors' firing middle order and was replaced by Claude Chantler – another in a long list of 'did-not-bat's.
Helping out for the day was Dawie Morris (0/34 from 7), who bowled some super off-spin and was unlucky to not pick up several wickets. Claude (0/45 from 6) toiled hard and was on the receiving end of some good batting, getting paneled for 7.5 runs per over by Rodders (72) and Thoks (32).
Dealing with some severe pad rash, Sean Petzer was eventually asked to join the bowling attack. With several variations, his bowling flummoxed the batsmen as he pocketed 4 massive wickets and recorded his best bowling figures for Groot Drak – 4/34 from 4.
Bruce Taylor was his usual wily self, tying up the game with four overs for 15 and two wickets for his efforts.
Spin Doctors were bowled out in the 34th over for 198, securing a 99 run win for Groot Drak.
Despite the rather one-sided result, the game was, as always, played in a great spirit and with plenty of humour to boot. Thanks to load-shedding, a few drinks were shared in the dark before the players went their separate ways.
Best of luck to the Doctors for the season – we look forward to seeing you all again very soon!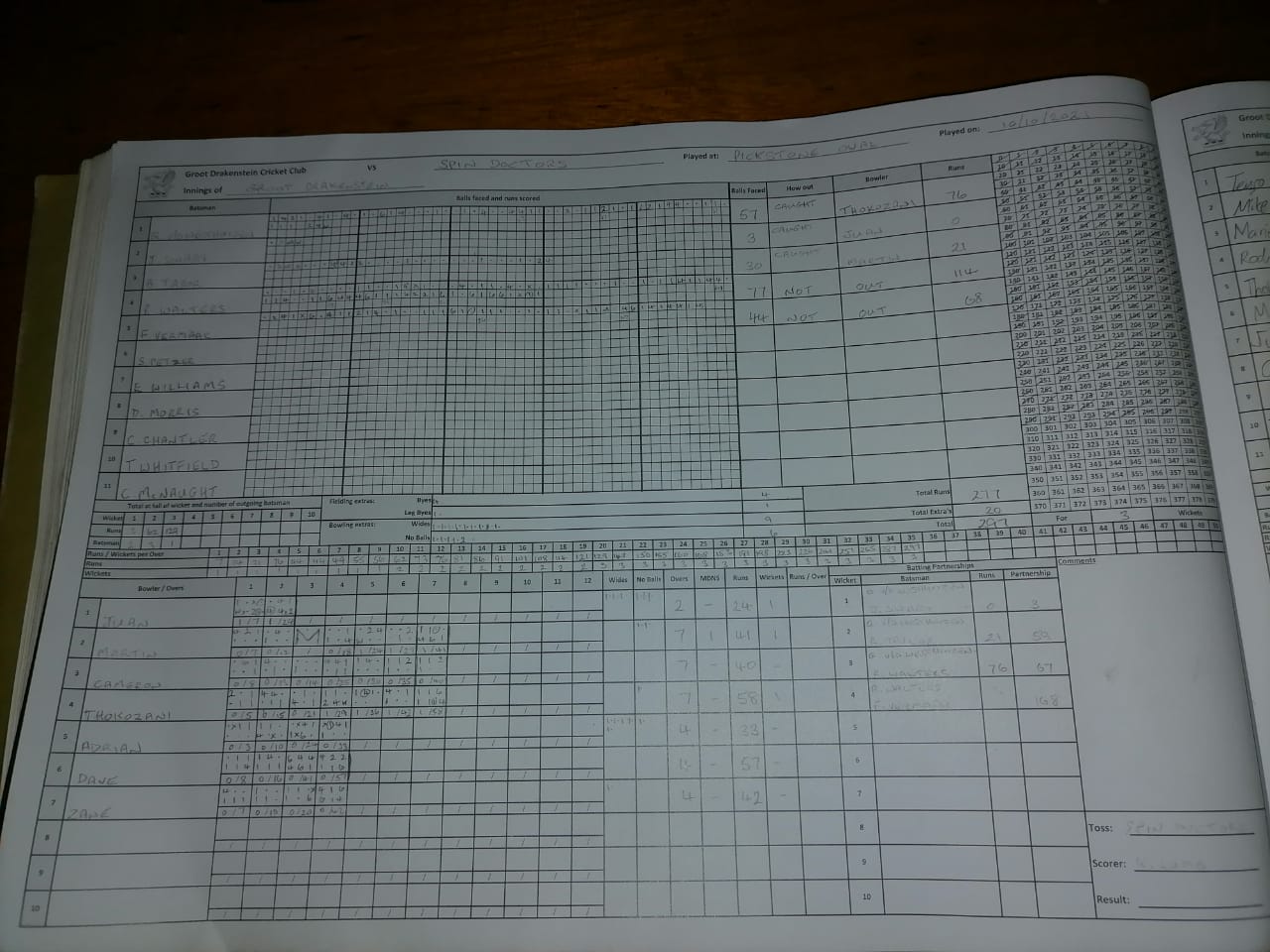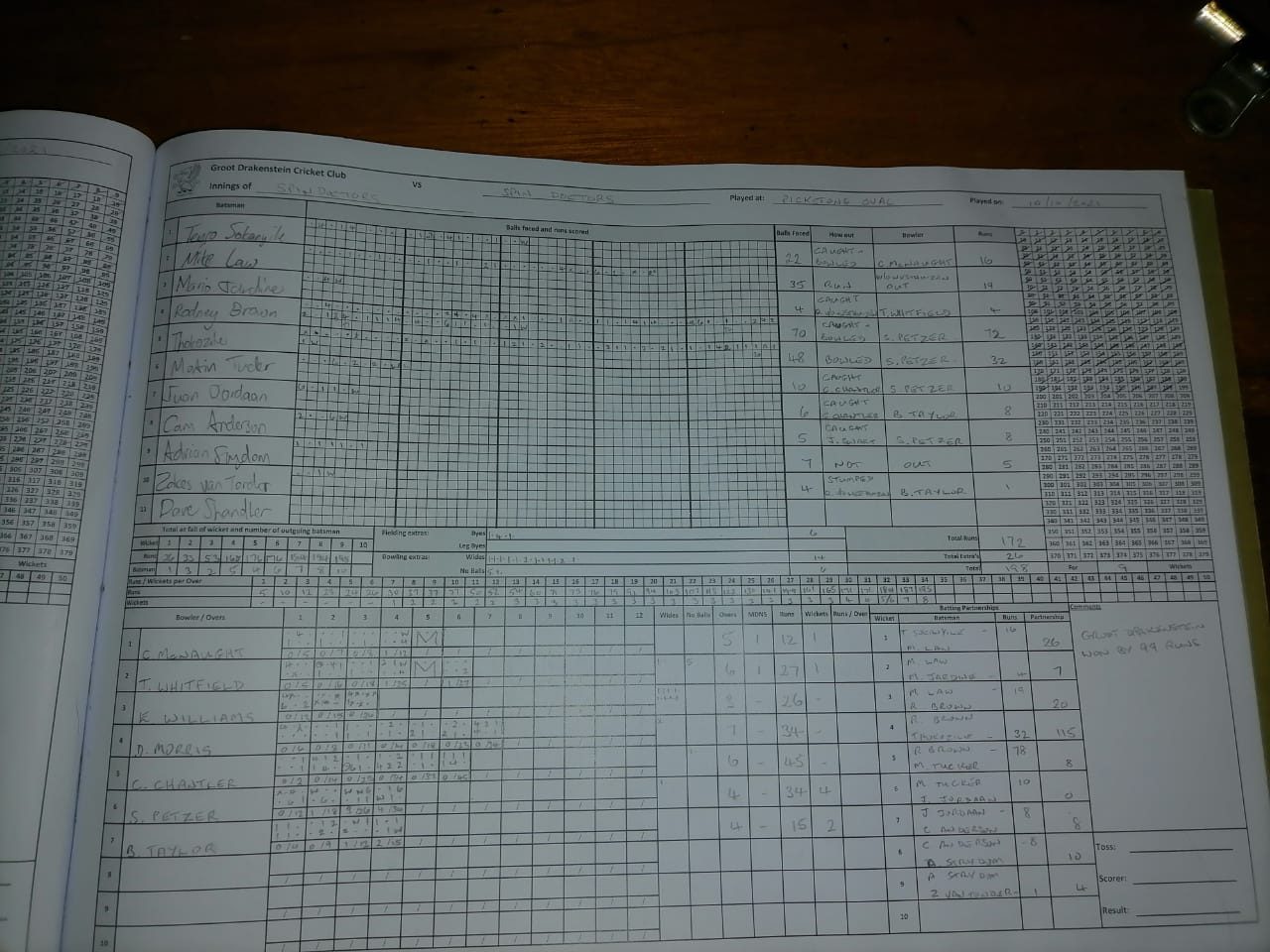 Match report by Craig McNaught