Scorpions always put together a fantastic team, which generally results in a humdinger of a game. Groot Drak traveled to Oude Libertas on the 30th of October, up for the challenge and keen to keep the friendly rivalry going.
Every once in a while, losing the toss can be a blessing, especially when the home team sticks you in to bat. With smiles all round, Groot Drak sent in Quintin van der Westhuizen and Francois Vermaak to face the new ball.
Both batters looked solid on a wicket that was hard to get to grips with. Quintin chased a wide one and nicked off for a run-a-ball 15, bringing Jono Boulton to the crease after an absence of several months.
Jono and Francois toughed it out until drinks, where Groot Drak found themselves 77/1 after 17. The Scorpions bowlers had kept things very tidy and made run-scoring nearly impossible during the first quarter. With a host of talented batsmen still in the dugout, the Drakies needed to get a move on if they were to post a respectable total.
Francois' technique stood him in good stead before being gunned for 38 from 53, making way for Rikus Walters at number 4.
Jono Boulton (19 from 55) departed shortly thereafter, following an innings that wouldn't have looked out of place during the final day of a Perth test match.
Rikus, going well, was joined by Alan Sherratt, brandishing a piece of willow straight from the shop floor. Alan found things a lot easier than the other batters, needing just 4 balls to smash his first maximum. From there he was relentless on anything near the slot and raced to 56 runs from just 36 deliveries. Alan's first half century for Groot Drak could not have come at a better time nor at a better clip. A mistimed sweep shot saw Alan depart to the relief of the Scorpions, as Craig McNaught (19 from 22) joined Rikus, but struggled for timing before being mercifully run out in the final over.
With just two balls remaining, Hugo Brink (1* from 2) didn't have much time to make an impact, while Rikus Walters ended his day with the bat, contributing a perfectly weighted 40 not out from 55 balls.
Groot Drak had gotten up to 197 for 5 from their 35 overs. The total felt a little light, but with a solid bowling attack, the boys were ready to make a fist of it.
After the break, Corrie Brand (0/28 from 7) was welcomed back to his usual role of opening the bowling with his twin cousin, Danie van der Nest (1/36 from 7). Both openers showed their fitness by bowling their full quota of seven overs on the trot. Danie managed the breakthrough in his fifth over when he trapped Johan Kapp in front for 21.
Bowling first change, Colin Myburgh (0/35 from 7) and Tim Whitfield joined the attack and kept the pressure on. Having not had a chance to bat, Tim was adamant to make his mark with the ball, which he did consistently from his third over, knocking over four Scorpions batters at crucial intervals. Among his scalps were Nico Ras, Andre Geldenhuys and Wiaan Smit – all of whom have hurt Groot Drak on previous occasions. Tim finished with figures of 4/39 from his 7 overs, agonizingly close to his 5-fer.
Despite Tim's heroics, Scorpions were still firmly on top when Hugo Brink (1/33 from 3) was introduced in to the attack. After a disastrous first over that traveled for 20 runs, Hugo brought his length back and managed to pick up a wicket. Alan Sherratt (2/19 from 3) bowled a short spell of world-class leg spin and put Groot Drak right back in to the contest by nabbing two wickets late in the game.
Scorpions found themselves needing just six runs from the last over with only one wicket in hand. A friendly full toss on middle stump first up from Craig McNaught was met with a hoick towards the long on boundary, pouched effortlessly by Francois Vermaak to end the game.
Another epic encounter between these two sides, that could have easily gone the other way, has us all licking our lips at the prospect of the return fixture in January next year. Thanks to Kloppies and the Scorpions lads for their hospitality and for always showing us a great time when visiting Stellenbosch. We look forward to returning the favour in a few months' time!
Congrats to Alan Sherratt on his man of the match performance, which went a long way to securing the result for Drak.
Special mention must also be made of Mike Divine's contribution – giving up his Saturday to score and cheer from the sidelines!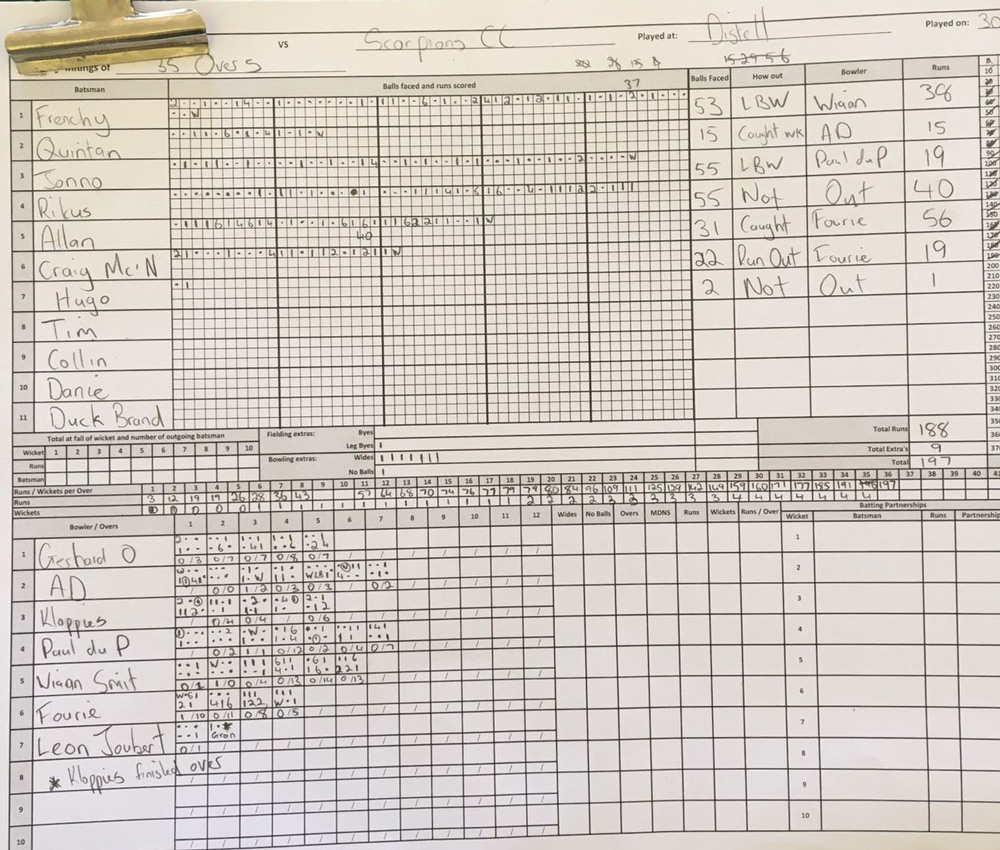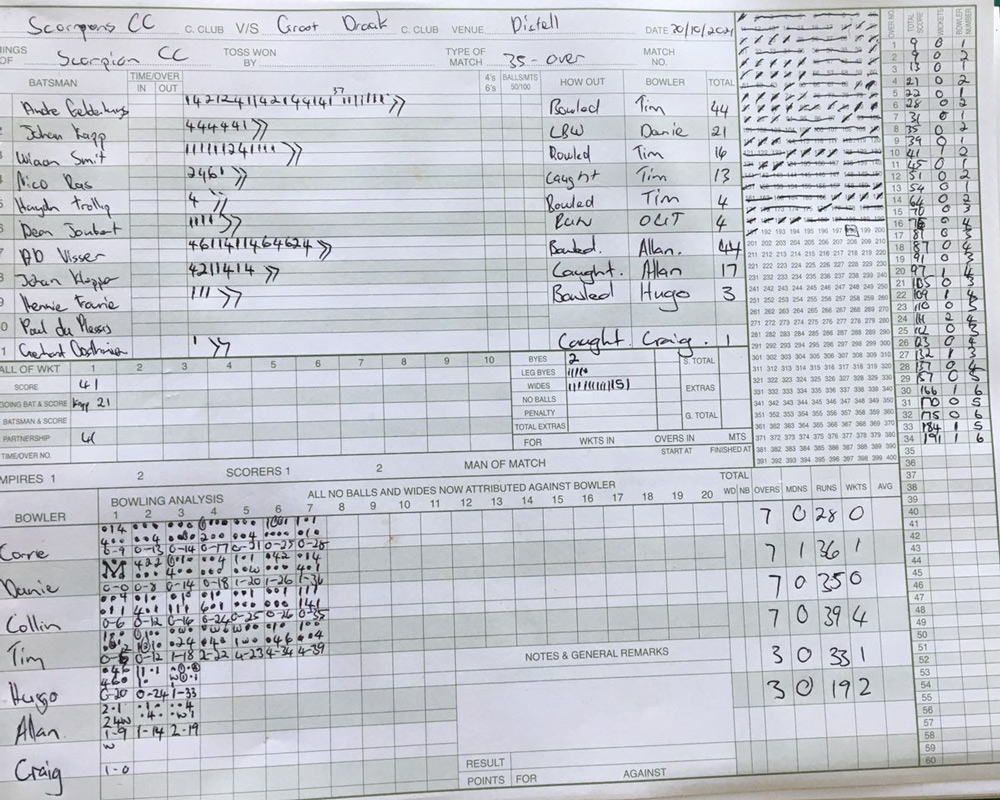 Match report by Craig McNaught