With the weather nothing short of glorious on Sunday, Groot Drak welcomed our new friends from Greenpoint Gullies back to the Boland for a chance at redemption after last year's rather one-sided affair. The pitch looked like good value for batting and bowling, so after a brief discussion out in the middle, Gullies skipper, Louis Nel opted to bowl first.
The Drak openers both got good starts, but Jaco Swarts edged a length delivery during George van der Spuy's first over, falling for 25 from 22. An uncharacteristic lapse in concentration from Alan Sherratt meant that the Drakies were in a spot of trouble with their number three batter back in the hutch without scoring.
Fortunately, Rikus Walters was just starting to fire when he was joined at the crease by Hugo Brink. Hugo rode his luck and rode it hard, as he was dropped no fewer than six times in his innings and survived two LBW shouts, earning him the mantle of 'Cat Woman' for having nine lives.
Rikus (48 from 57), just two runs short of what would have been a well-deserved fifty, was dismissed thanks to an impressive catch at midwicket by Frans Pieters. With a 75 run stand for the third wicket, Groot Drak were starting to claw their way back into the match as Craig McNaught came in at number 5.
Eventually, Hugo's incredible lucky streak came to an end, being gunned LBW after a workmanlike 35 from 67 deliveries.
Morne Landman could only manage one speculative run before falling victim to Corne Rautenbach. The very next ball, Wessel van Deventer elected to leave one on leg stump and got clean bowled around his legs, setting up a hat-trick opportunity for the big seamer. Corne landed the next delivery on a good length and beat the bat of Christo van Deventer, making a mess of the stumps to complete a rare hat-trick! Corne took it in his stride and never mentioned the hat-trick again for the rest of the day.
With four overs left in the innings, Craig tried to force the issue and got caught on the long-off boundary for 25 from 27 deliveries – leaving Bruce Taylor (18* from 27) and Zak Barnard (14* from 10) to let loose on the bowlers and get Groot Drak just 2 short of 200 after their 35 overs.
The total felt par as the sun continued to bake the pitch, while the players enjoyed a quick lunch and a few refreshments.
One would have been excused for thinking that the format had changed from 35 overs a side to a timeless test after the break, with Dylan Adriaans (20 from 43) and Shahim Davids (1 from 16) in no rush whatsoever to achieve the nearly 6 runs per over required for victory. Calling it after four overs, Craig McNaught's first spell went for just 6 runs, while Johann Agenbag bowled six on the trot for just 19 and picked up two wickets in the process.
Coming on first change, Zak Barnard (3/39 from 7) bowled seam up in tandem with Bruce Taylor's leggies. Zak's first two wickets came courtesy of spectacular catches from Wessel at mid-wicket. Bruce (2/52 from 7) managed to buy two important wickets, which further cemented Groot Drak's position in the game. After 17 overs, Greenpoint Gullies were 58/6 and both teams could just about taste the cold draught beers waiting in the clubhouse. Corne Rautenbach and Nick Proudfoot, however, had different plans for the afternoon…
Corne put on a batting clinic, notching up a fifty at better than a run a ball. When he was joined by Nick Proudfoot, the two got properly stuck in and smashed boundary after boundary, putting Morne Landman (0/32 from 3) and Alan Sherratt (2/26 from 6) under serious pressure with the ball. At 27 overs, the Gullies had overtaken the required run rate and started cruising, while the bowlers kept taking punishment.
Returning for a rare second spell, Craig McNaught (1/26 from 7) removed Nick Proudfoot after a ridiculously fast-paced 52 from just 23 balls. Somehow, this was Nick's first ever half century – and what a time to do it!
Corne continued his assault on the bowlers and everyone could sense that this one was going down to the wire. With four overs left in the game, the guys from Greenpoint needed just 21 runs with two wickets in hand.
Alan lobbed a friendly full toss to Corne (65 from 60) who obligingly bludgeoned it towards cow corner. Luckily for Groot Drak, before it sailed over the ropes, it was safely pouched by Craig McNaught to add a little more spice to an already thrilling contest.
Zak Barnard's final over went for a massive 17 runs, thanks to Heiko Dresselhaus' (16* from 10) slog-sweeps, swinging the pendulum back in the favour of the Gullies.
With four runs to play with in his last over, Alan stepped up and clean bowled George van der Spuy to secure a win for Groot Drak in a game that could have easily gone either way.
Almost 400 runs were scored in this match that will live long in our memories for all the right reasons. Some well-earned fines were duly dished out for 50s, hat-tricks, drop-catches, ducks and more. Cheers to the Gullies for treating us to their amazing company and a cracking game of friendly cricket.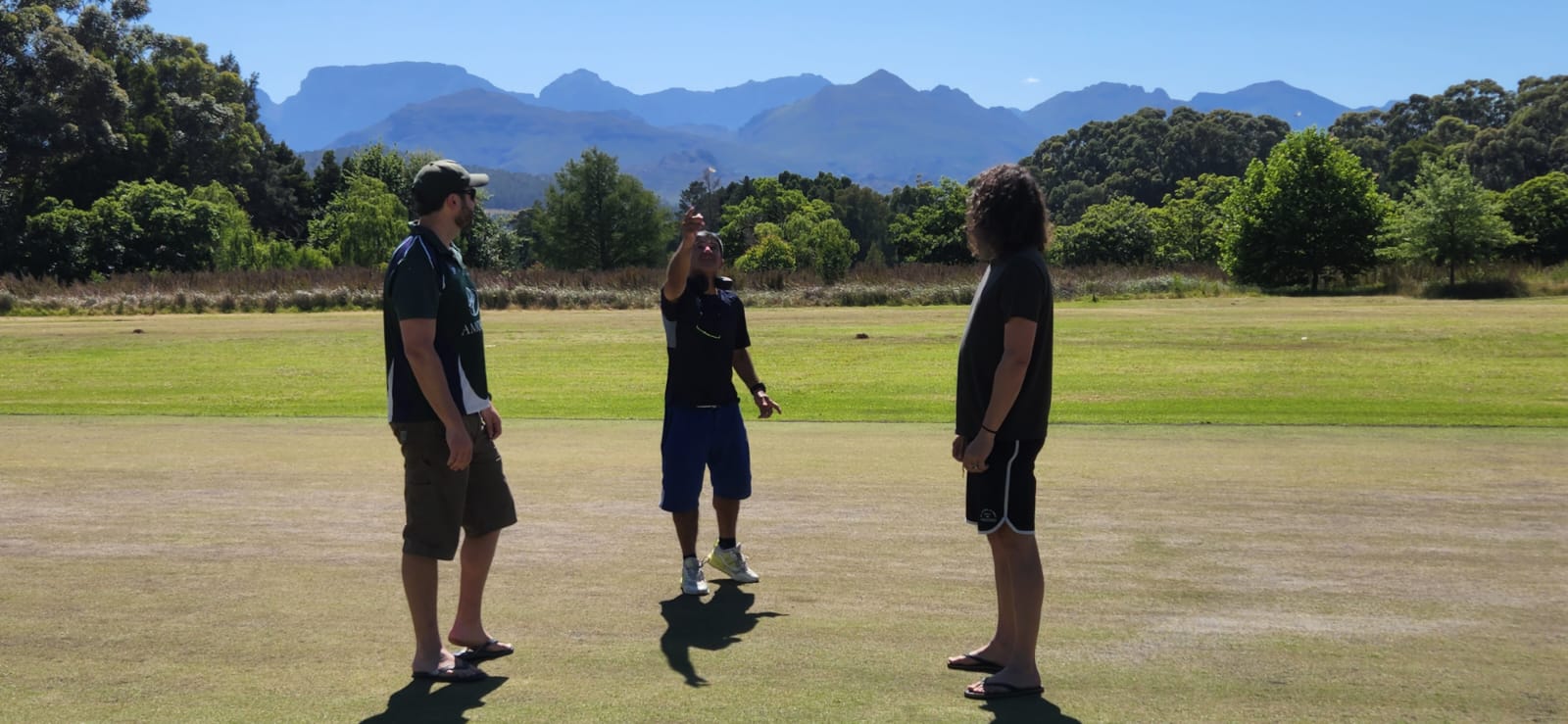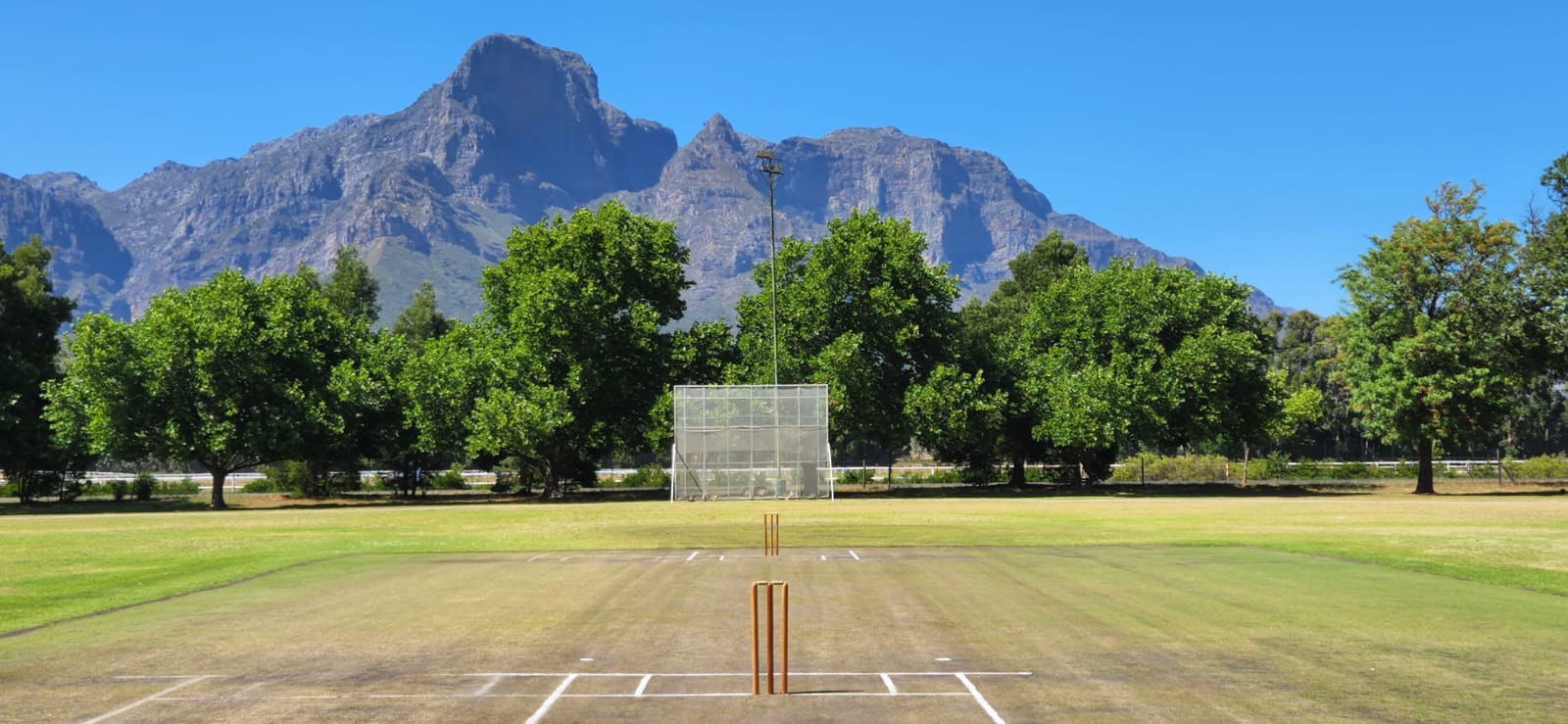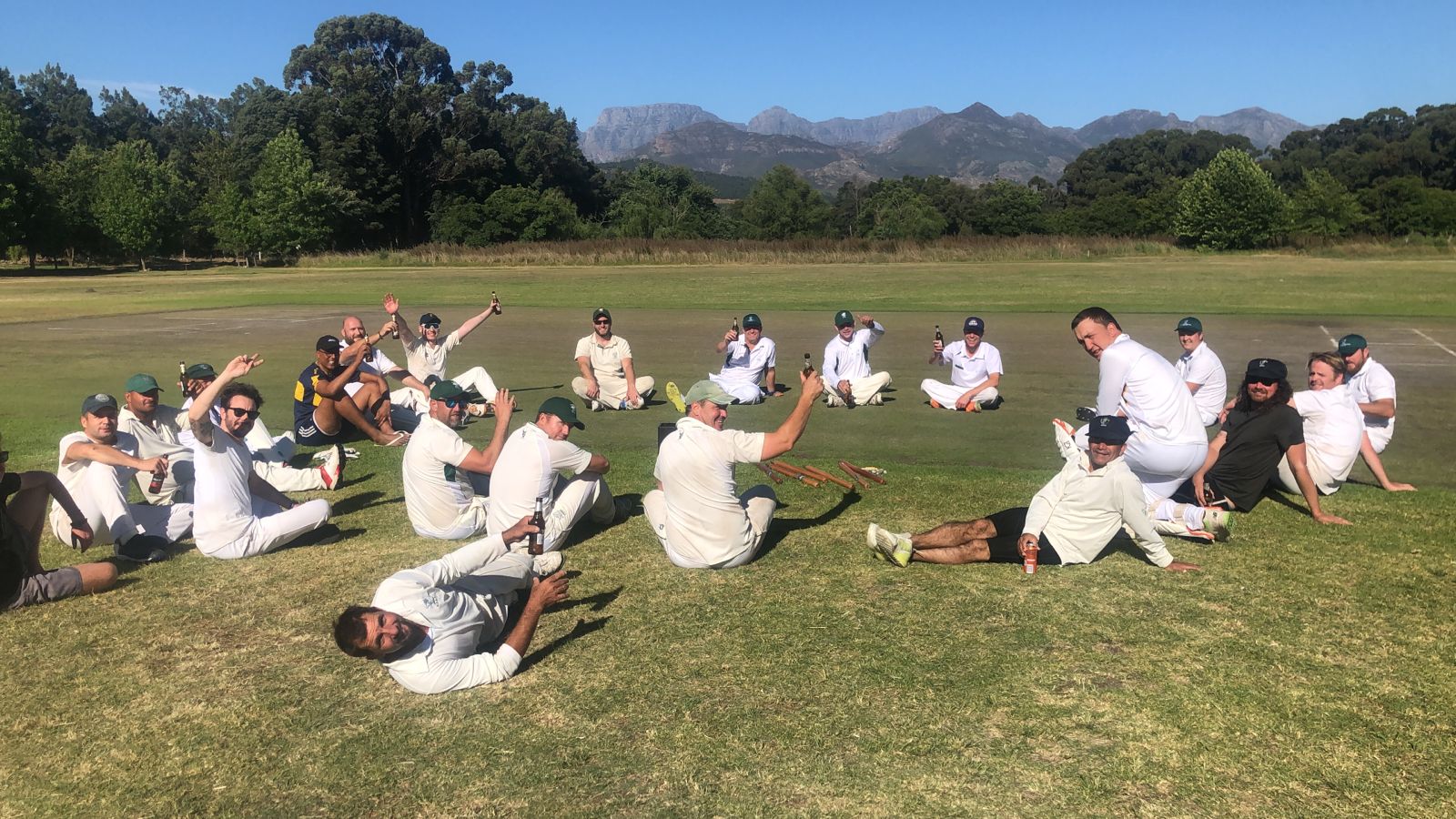 Groot Drak vs Greenpoint Gullies Scorecard
Man of the Match: Rikus Walters/Corne Rautenbach
Match report by Craig McNaught